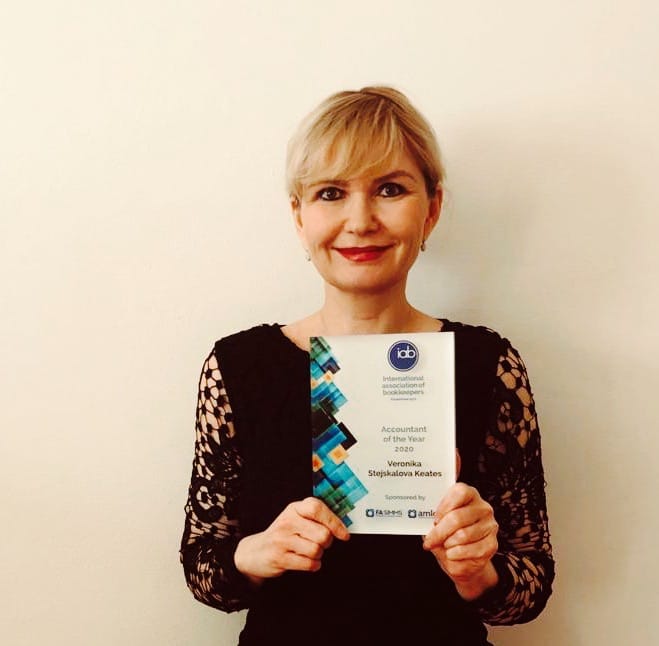 I'm pleased that you agreed to discuss your life experience, challenges, and achievements with me. You just received the IAB Accountant of the Year 2020 award. Congratulations! I'm very happy for you!
We both had a modest upbringing, we experienced communism during our childhood in former Czechoslovakia. What are some of your early childhood memories?
Veronika: Thank you, Eva. Yes, I'm very humbled and honoured to receive such a great award. It's not only a professional achievement but also a personal one. Once a shy bullied little girl achieving something like this is without a doubt priceless. I do have some early childhood memories which for some reason stayed with me to this day. One of them was my longing to have jeans. And not just any jeans but I dreamt of having dungarees! I recall from your book that you did mention jeans too. There must be something about the people who desire to have jeans and perhaps be a little bit more "western" while living behind the Iron curtain. Well, my story about jeans is a bit funny. I saved money that was given to me by my parents which included lunch money (saying this now might get me into trouble). I went to buy a pair of dungarees and made sure they were two sizes bigger, so I could wear them longer.
I arrived in the UK with just a suitcase in 2010 and was lucky to find a temporary position in market research. I quickly fell in love with London, its multicultural environment, endless business opportunities, and friendly, welcoming people. What brought you to the UK and how do you view your experience living and working here?
Veronika: I came to the UK in 1998, initially for three months to improve my English while I was still studying at a university in the Czech Republic. However, things took a different turn and I have settled down in Reading. Then I started to travel for business and personal reasons between England and mainland Europe. The beginnings in the UK weren't easy for me. I wanted to continue studying, but the fees were too high, and finding work wasn't easy either. After a few years, the situation started to improve and has been going well ever since. I think the initial difficulties were partly due to my young age but also because of the very different situation in Europe during the late 90s, where people had to get used to coexisting with "new foreigners". Looking back, I see it as "testing the unknown waters" before jumping in.
"It's encouraging to see that a little help with a few hours of support can make such a difference in people's lives. I was raised to help other people when I see they are facing a crisis but that doesn't mean I allow people to take advantage of me."
You are a loving mother of four, with one having special needs. Being a mother means so much love but also worry with sleepless nights. What are the biggest challenges you face as a Mother today?
Veronika: Sometimes, I even think, "Oh gosh, I have four kids! How did I do it?" We have been fortunate that all four children are very good and this makes it easier to balance family and work. Still, there were difficult times and many sleepless nights with Victoria, our eldest daughter, who has severe disabilities. It wasn't just about caring for her with endless travels to doctors; searching for help and a cure for her but also reaching the point where we had to accept that we have a special child and she will always be unique. I'm trying to find more time outside of work to spend with my children. Having my fourth at a later age, late in life, and looking back at the older three, I realise how time flies and the lives of these little people are magical and we should spend more time with them.
The accounting profession is often viewed as boring and repetitive. Back in Slovakia, I assisted an Accountant and I found working in SAP, Excel, and Helios difficult. Being surrounded by numbers all day wasn't my passion. How do you see your profession, have you always wanted to become an Accountant and Tax Advisor?
Veronika: This is very interesting. I also thought that accounting was boring and repetitive. I, therefore, made sure I was never seen as a boring Accountant. I like to bring colours to numbers. I look at them and analyse them to understand the story they tell. I also have a passion for the law which brings advantages to my work as an Accountant and Tax Advisor. My early dreams about who I wanted to become ranged from an Archaeologist (I love everything about Egypt) to a Lawyer. I previously undertook some law seminars during my ACCA studies and now I'm studying EU law. I think when people enjoy what they do, they give their best.
We two met seven years ago at a party organised for the Czech and Slovak community in London. What I really like about you is how you help people who face challenging life situations. You help people who take care of their loved ones who live with mental illnesses and those who face homelessness. You dedicate a certain amount of time weekly to support people in need. When did you start and what motivated you to provide professional advice also to those who can't pay?
Veronika: I remember that event –it was a bit of a struggle for me to get to London but I made it and really enjoyed that night. I believe you should work with passion and enjoy what you do. Life is challenging and you never know when you might find yourself in a similar situation other people are experiencing. I am glad that I could help my two clients during a difficult life period. Their business was going well but suddenly, due to unforeseen circumstances, they found themselves on the street, homeless for a year, with tax bills to pay. We had previously initially chatted about providing accounting and tax advisory services before this happened, and it took months before I received a call from them informing me of their situation. I can't divulge details but I'm pleased to say that everything is now resolved. They are now safely off the streets and re-started their business. It's encouraging to see that a little help with a few hours of support can make such a difference in people's lives. I was raised to help other people when I see they are facing a crisis but that doesn't mean I allow people to take advantage of me.
Some of your clients are Entrepreneurs with long-term health conditions and impairments. I understand that your communication with your clients is confidential but can you tell me about your approach; how do you communicate with them efficiently?
Veronika: During our initial chat via e-mail, WhatsApp call or face to face, I try to find out more about the client; not only how I can assist but also a bit about their personality, habits, etc. This may sound like I'm being nosy but I ask carefully or the situation itself leads to a client opening up more. I have to say that it's often difficult for people with special needs to speak about their challenges. They hide them or hesitate. I think that spending a lot of time in hospitals and around people with special needs like Victoria, made me more sensitive and caring. The most important thing is for the client to feel safe to discuss their matters. After all, we talk about their business, their livelihood, and their personal financial matters – trust is an ultimate must.
Today, many individuals and businesses move their communication online. The world has changed rapidly in just a couple of weeks. There are fear and uncertainty but also a deep longing to create and contribute. What advice would you give to somebody who wants to start a new business?
Veronika: I would say that it's not easy, and never will be, but if you do it with passion and determination you should succeed. But, and there is a big BUT, you need to think carefully what you want to do, properly structure your business plan, delegate tasks which you don't feel strong at and yes, I know that the finances are tight to start with but believe me, it will pay back. There are various schemes and organisations helping start-ups for free or at a reduced rate. I support new businesses in choosing the best structure for tax optimisation.
Thank you for our conversation. I wish you the best for your future.
Veronika: Thank you, Eva, I truly enjoyed our talk and I also wish you all the best.
Veronika Stejskalova Keates is the Finance Director of Fidatezza, a company providing services in bookkeeping, accounting, tax advice, Amazon, and e-commerce in the UK and abroad.
Photo Courtesy Of Veronika Stejskalova Keates